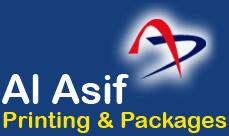 Printing Company
I Wish To Introduce My
Printing Company,
Al Asif Packages As One of The Leading Supplier For Your
Offset Printing, Packaging Solutions,
And Supplies Needs.
Al Asif Packages
Was Establish In 1998 And
Offers Printing, Packaging Solutions
And
Supplies.
We Have A Reputation As A Trusted Supplier And Reliable Printer Serving Customer in All Different Industries Since Last Thirteen Years. Our
Commercial Printing
Business Include, The Printing of Ncr Paper, Forms, Flyers, Brochure, Poster, Catalogue, Sticker, Warranty Sticker, Barcode Sticker, File Folder And Envelopes
Printing Press
History: Al Asif Printing Press established in 1998 in Karachi Pakistan .It has long experience in Printing field. Al Asif Printing Press is a full-service Printing Company dedicated to the complete realization of quality Printing, supplies and equipment for more customized prints in the industry. Customer service, high-quality printing and state of the art Technology are taken very seriously at Al Asif Printing Press. Each day, highly skilled and dedicated employees strive to make our customers' experience with us go beyond satisfactory in every way. This is why we are one of the leading producers of consume and business to business printing needs.
Offset Printing
Quality Policy : "We are committed to achieve Excellence in the Quality of our Products, To Full Satisfaction of our Customer through Continual Improvement in our Products, We are Providing Offset Printing, Commercial Printing Through our printing Company, Because we have very Extensive Experience in Offset Printing."
Commercial Printing
Our Management: The management is handed by Asif Tariq Sheikh (Managing Director) Mr. Asif Tariq Sheikh has been in the Printing Business for the past 13 years. He blended into the Business looking after all the Departments of Marketing, Production, Completion of jobs to Dispatching and invoicing. After gaining all the Experience needed, he Established his own Business, Offset Printing in Karachi.